Nolen Kelly, Editor
Yep that's right I'm making a list of five of my favorite articles that I have written here during my time at the Collegian. What better way is there to stroke my own ego, toot my own horn, or pat myself on the back than to recount my own works? There is none. I've loved my time here at the Collegian and I feel with almost any one of my articles there is a clear progression for how far I've come as a writer. Each of these articles all hold something special for me and while I love all my children equally there can only be five of my favorites. Thank you to the Collegian for giving me a space to write and thank you, readers, for enabling me in my passion and my enjoyment to do what I hope to grow and continue with in my life beyond La Salle.
#5: 'Former Interim President of La Salle Wrestles The Explorer'
In 2021 I wrote my first Foolegian article about 'Always Sunny' character Frank Reynolds being the new interim president of La Salle and it was alright quality wise. It was pretty popular getting a bunch of clicks after its release but it's the followup that I am more proud of. While not as heavily viewed as many of my other pieces, I loved making this one for a few reasons. Firstly because it's just funny. Secondly because of the lore already behind it and third because the article is literally just a copy and paste of the Wikipedia article summary for the buildup and match recap of Hulk Hogan versus Andre the Giant at Wrestlemania III. All of the terrible moves were all a part of one super terrible match that is only talked about because giant man picked up even gianter man.
#4 "Review: 'Los Espookys'"
In Winter 2020 semester when the Collegian returned everything was online but before that I had the one of the last remaining honors getting my work published in print papers and it all started with my roommate, at the time editor for A&E and future editor-and-chief Jakob Eiseman, poking me to write a review of this show for the paper. I was hesitant but did and I loved it so much I'm still going today. I was able to find the article online so it is not a link and it was my first piece so it is definitely not the same style I have now but "Los Espookys" is a show that will have a spot in my heart for the way it brought my roommates and I together but also because it was my first publication of any kind and I still haven't forgotten what that felt like
#3: "Review: 'The Batman'"
https://thelasallecollegian.com/2022/03/10/review-the-batman/
If there is anything to cement me as the "A&E editor who won't shut up"(Eiseman, 2022) there is no article that is really just a fraction of my thoughts on the movie than my review of Matt Reeves' go at the bat in "The Batman." Some recency bias, yes, but I really love this movie and I really loved getting to talk about it. I don't get many opportunities to make an article generating excitement for a movie I feel could be great but I did and then "The Batman" came out and it shattered my already sky high expectations. I put my energy and full brain into my reviews but none have been as fun to write or think about writing as much as this was.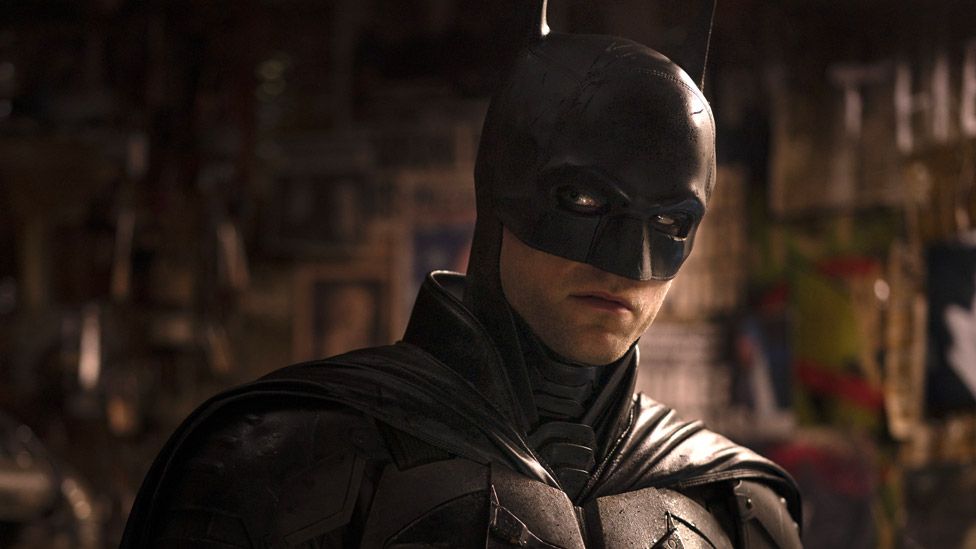 #2: "5 Good and 5 Bad movies from Summer 2021"
I had every intention to return in the Fall semester of 2021to be the co-editor of A&E and to be the movie guy. Over the summer of '21 I did my homework and tried to watch any new movie of the summer I could get my hands on. I love being outside in the summer, I don't mind the heat too much even though it so totally sucks, however, whatever I have going on in the summer will always be less important than whatever movie I'll be watching and this article was so much fun to put together. I like making lists like these, I like watching movies, and I like making lists of movies I've watched that I can recommend to others.
#1 "The Collegian Community's Favorite Horror Movies"
All I want to do is talk about movies and getting to include my social media followers and friends' quotes and opinions on their favorite horror movies was an absolute blast to put together. Horror is not really my genre but hearing people's opinions and passions for movies that made them feel their own interpretations of scared or spook was so awesome. I milked it a bit with the other holiday editions, I admit, but it was fun and the main reason I got into writing movies and making scripts in the first place. Seeing the reasons people enjoy the things they enjoy are the reasons I do what I do and what I hope to keep doing long after I graduate. 

If I do become a writer after graduation I doubt I will be able to continue making crowd based content but I never want to stop talking movies with the people who read my work or follow me on social media so on that I'll end there with another big thank you for reading my articles. Thank you Collegian for giving me a space to write. Thank you.